9 October 2018 – Amsterdam, the Netherlands – EclecticIQ, which empowers cyber defenses with threat intelligence, today announced the availability of EclecticIQ Platform 2.3 at it-sa 2018, Europe's largest expo for IT security. The new version is packed with new and improved features that increase the effectiveness of cyber threat analysts through enhanced collaboration. Further, it contains new data management capabilities to add flexibility to organizations' GDPR strategies.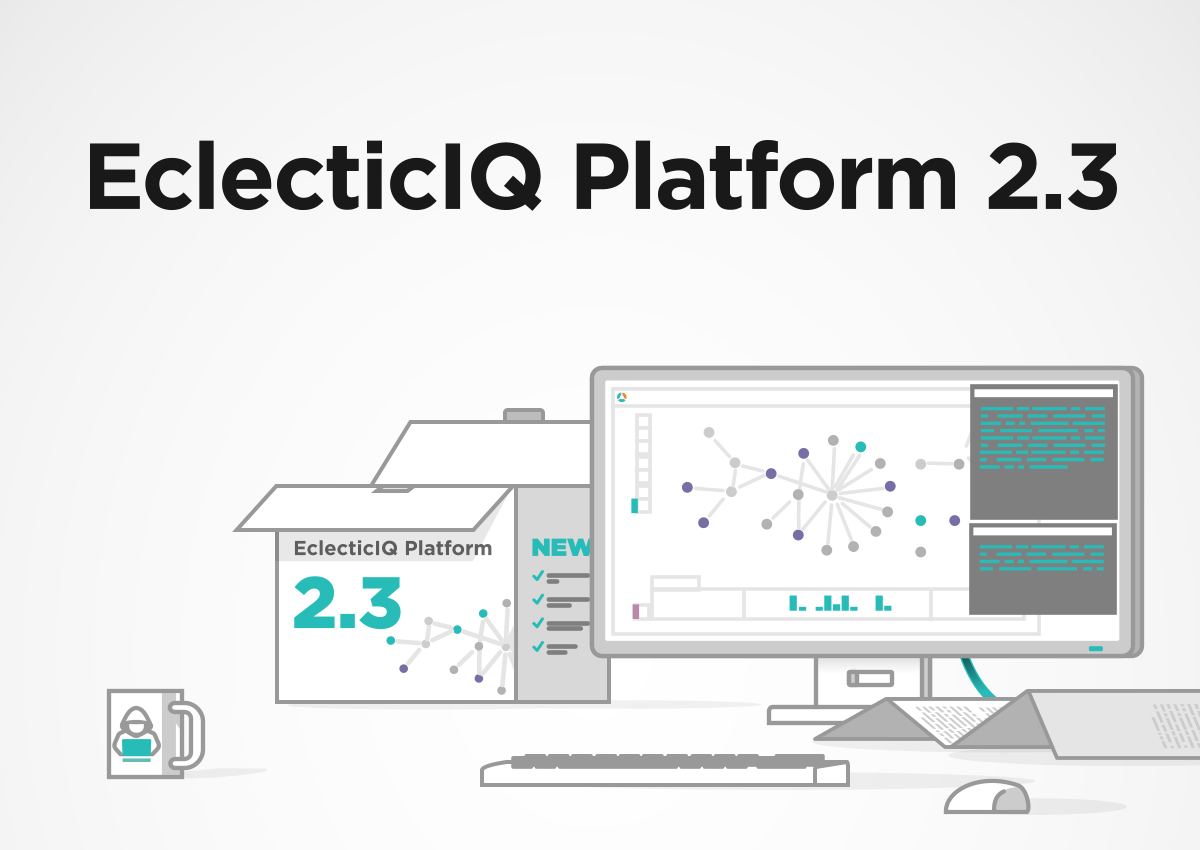 Sharing is a key element of cyber threat analysis. Release 2.3 focuses on just that, by providing enhanced collaboration within EclecticIQ Platform and delegated administrative responsibilities for groups. The updated capabilities for workspaces give analysts more control over the visibility of the workspace and its contents. This lets them work together with others in a private setting. Analysts can control who they collaborate with by adding groups as collaborators next to single users.
This functionality not only boosts cooperation among analysts, but the organization is assured that confidentiality is more easily protected at a granular level.
"EclecticIQ is known for its human-led, analyst-centric approach to Cyber Threat Intelligence, which is once more reflected in the new features in the latest release of our platform," said Aukjan van Belkum, product manager at EclecticIQ. "With the enhanced collaboration capabilities, the workflow with external parties becomes easier while maintaining privacy where needed, thereby reducing the mean-time to remediation as you can more easily employ outside help, which strengthens an organization's security posture."
In addition to the enhanced collaboration features, EclecticIQ Platform 2.3 provides enhanced data retention management capabilities. With the new release system administrators can automatically purge threat intelligence by creating retention policies, in accordance with their organizational policies. The automated deletion of threat intelligence makes it simpler to remove irrelevant information and only retain the intelligence you need. This capability adds more granularity and flexibility to organizations' GDPR strategies.
"Many organizations have gone through changes in their data policies since the enforcement of GDPR," said van Belkum. "The new version of our platform reduces the headaches of system administrators by allowing for an easy way of purging out-of-date intelligence, while keeping intelligence that is still relevant to the analysts' work."
About EclecticIQ
EclecticIQ enables intelligence-powered cyber security for government organizations and commercial enterprise. We develop analyst-centric products and services that align our clients' cyber security focus with their threat reality. The result is intelligence-led security, improved detection and prevention, and cost-efficient security investments.
Our solutions are built specifically for analysts across all intelligence-led security practices such as threat investigation, and threat hunting, as well as incident response efforts. And we tightly integrated our solutions with our customers' IT security controls and systems.
EclecticIQ operates globally with offices in Europe, United Kingdom, and North-America, and via certified value-add partners.
Learn more at www.eclecticiq.com