Upstream processing of threat intelligence vastly simplifies analysis and taking action
Bundling open-, community-, and over 30 commercial sources of threat intelligence
Delivering threat intelligence in unified, standards-compliant feeds to threat intelligence platforms, IT security controls, analysts and executives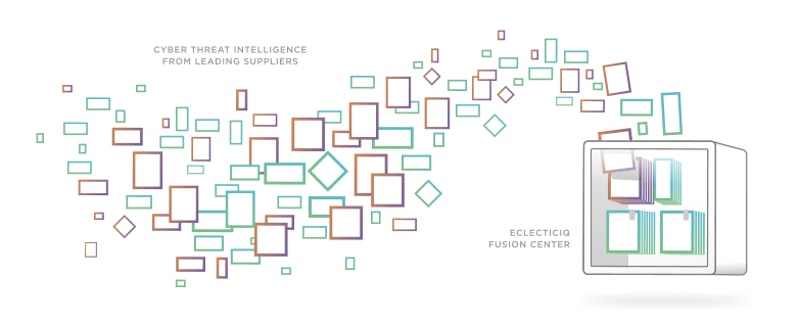 AMSTERDAM – May 2, 2017. EclecticIQ, the cyber threat intelligence technology provider, has announced the launch of EclecticIQ Fusion Center, a revolutionary approach to the collection, analysis, and distribution of cyber threat intelligence.
Available as a managed service, EclecticIQ Fusion Center gathers the best threat intelligence from open-, community-, and over 30+ commercial sources (including Group-IB, Intel 471, RedSocks, and SenseCy) and fuses it into optimized bundles tailor made for sectors, geographies or individual clients. Clients receive a single, standards-compliant feed that contains all the intelligence needed for enterprise threat intelligence practices, Security Operations Centers, and Incident Response teams.
With this launch, organizations can focus entirely on responding to threats without having to manage multiple intelligence feeds. EclecticIQ Fusion Center simplifies procurement and contracting, saving time and money for cyber threat intelligence analysts, and improving cyber readiness.
"Traditionally, organizations have had to manually procure, consolidate and triage multiple sources of intelligence in order to understand the threat landscape and ensure action," said Joep Gommers, Founder & CEO at EclecticIQ. "This approach overburdens analysts and IT resources with repetitive, low-value work."
"EclecticIQ Fusion Center makes it simple for organizations to run a highly effective cyber threat intelligence practice. Threat analysts should be working together in teams to protect their organizations against cyber threats, and every minute that they spend on data processing is a missed opportunity," he concluded.
Clients can customize the mix of open-, community-, and commercial sources contained in the intelligence bundle, and EclecticIQ specialists and partners will work directly with organizations to determine the optimal mix of intelligence sources suitable in any given industry or geography. If sources are not delivering up to par, clients can change the mix of sources without changes in contracting and delivery already in place.
Prior to delivering an intelligence bundle, EclecticIQ Fusion Center performs a full range of data management activities as part of an extensive fusion process, including deduplication of threat data, qualification for priority and relevancy, and tagging according to user-customizable taxonomies. EclecticIQ can also enrich intelligence feeds with commentary and insights from regional intelligence specialists. The resulting feed contains the most relevant, timely, and valuable intelligence, fused into a single bundle that's designed expressly for an organization.
Chris O'Brien, Fusion Center Intelligence Lead at EclecticIQ said "We're constantly evaluating intelligence sources using objective measures such as unique insights, corroboration with other sources, structuring, and data correlation. Our objective, all-source approach ensures that we always have the most relevant, timely and valuable intelligence available. It's extremely difficult for any single organization to perform this level of due diligence on their own, which is why our clients are so excited about the launch of EclecticIQ Fusion Center."
EclecticIQ Fusion Center works with EclecticIQ Platform or any standards-based threat intelligence platform.
About EclecticIQ
EclecticIQ helps organizations to turn cyber threat intelligence into business value through products built for cyber security professionals in threat intelligence, threat hunting, SOC, and Incident Response.
EclecticIQ Platform is the analyst-centric threat intelligence platform based on STIX/TAXII that meet the full spectrum of intelligence needs.
EclecticIQ Fusion Center enables the acquisition of thematic bundles of cyber threat intelligence from leading suppliers with a single contract.
The company won Deloitte's Technology FAST50 Rising Star Award for "Most Disruptive Innovator".
EclecticIQ is headquartered in Amsterdam, The Netherlands.