MOSCOW and AMSTERDAM, July 12, 2017 — Group-IB, a global leader in high-grade threat intelligence and best-in-class anti-fraud solutions, and EclecticIQ, the leading vendor of products and services dedicated to augmenting threat analysts' capabilities, today announced a partnership to integrate Group-IB's unique data on Russian-language hackers into EclecticIQ Platform. With this new integration, threat analysts, threat hunters, SOC analysts, and incident responders can add detailed context and immediately refine their investigations into cyber threats originating from Russian-speaking cybercriminals.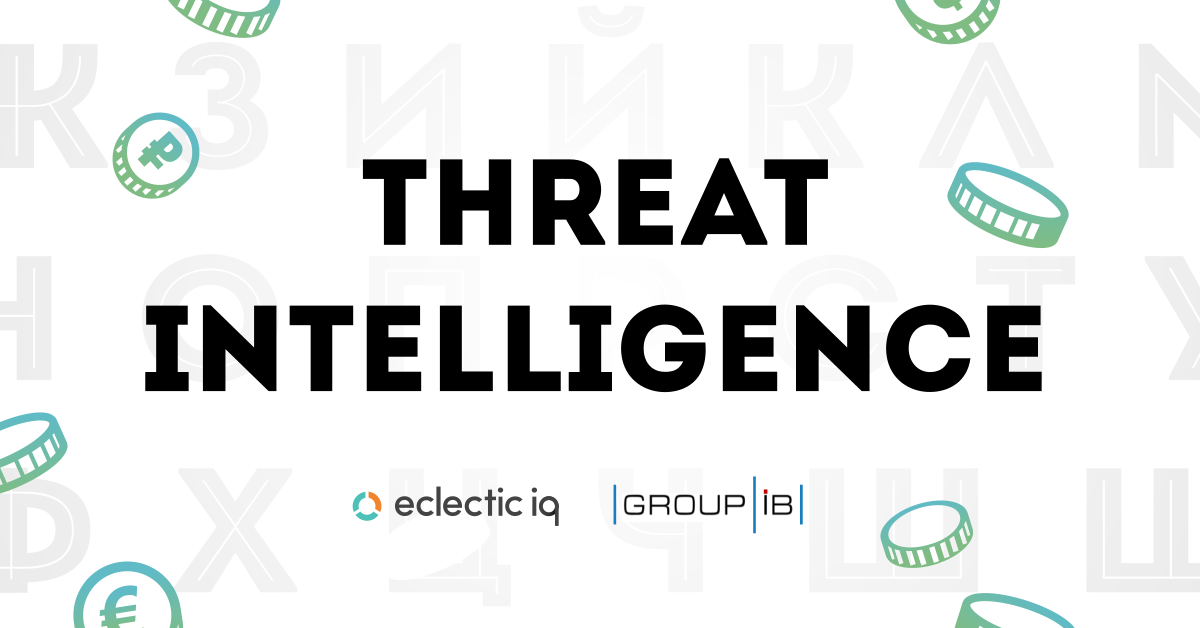 Russian underground communities are dominating the cyber world. These communities are defined by their native language and their technical and logical peculiarities, rather than by affiliation with nation-state actors.
"Detailed threat intelligence is always local—not in the geographical sense, but in terms of the communities the bad guys belong to," says Dmitry Volkov, Co-Founder of Group-IB and Head of Group-IB's Investigation Department and Intelligence Service. "It's impossible to get valuable information about an underground community without a deep understanding of the region and of cybercriminals' motives, psychology, and language."
"The devil is in the detail," Volkov adds. "It takes years to build an effective intelligence network into a regular channel of reliable information. We've been following Russian-language underground hacking communities since 2003, making Group-IB the absolute leader in the field."
EclecticIQ has now integrated Group-IB's unique intelligence on Russian-speaking hackers into EclecticIQ Platform, which helps IT security professionals and threat intelligence analysts to optimize their efforts in analyzing huge amounts of information from different sources; and EclecticIQ Fusion Center, which fuses and configures intelligence feeds, automatically enriches this data, and delivers threat intelligence directly into IT security controls.
"Russian-speaking cybercriminals are considered among the most advanced in the world, and taking that into account forms an essential component of any threat intelligence strategy for organizations targeted by these groups," says Joep Gommers, CEO & Founder of EclecticIQ. "By partnering with Group-IB, we're benefitting our customers with the most reliable information for analysis and proactive cyber defense against Russian-language attackers."
From within EclecticIQ Platform, threat analysts, threat hunters, SOC analysts, and incident responders now have access to timely intelligence on Russian-language hackers sourced from underground communities. Using intelligence including patterns of behavior, motives, methods, and techniques, cybersecurity professionals can build effective defensive strategies that help their organization to stay one step ahead of the criminals.
Threat intelligence from Group-IB will also be packaged into thematic bundles of cyber threat intelligence available through EclecticIQ Fusion Center.
Threat Intelligence is one of the fastest-growing areas in cybersecurity across multiple industries including financial services, government, oil and gas, and defense.
Considering the increasing frequency and severity of attacks by Russian cybercriminals on bank ATMs and other channels, financial institutions continue to be one of the largest consumers of threat intelligence. Cybersecurity analysts at financial institutions proactively identify threats and reduce operational risks with comprehensive threat intelligence that encompasses statistics, damage evaluations, trend reports, forecasts, detailed attack analyses, and analytics tailored to an organization's operational footprint.
About Group-IB Group-IB, a global leader in preventing and investigating high-tech crimes and online fraud, runs the largest computer forensics laboratory in Eastern Europe and is recommended by the Organization for Security and Co-operation in Europe (OSCE).
Group-IB products and services are used by global clients, including Fortune 500 companies in the US, Western Europe, Middle East, Asia and Australia. Group-IB's clients include top-tier banks and financial intuitions, FMCG brands and industrial corporations, oil and gas companies, software and hardware vendors, and telecommunications service providers from Australia, Canada, Latin America, EU, Russian Federation, UK, and USA.
Read more at www.group-ib.com
About EclecticIQ EclecticIQ helps organizations to turn cyber threat intelligence into business value through products built for cyber security professionals in threat intelligence, threat hunting, SOC, and Incident Response.
EclecticIQ Platform is the analyst-centric threat intelligence platform based on STIX/TAXII that meets the full spectrum of intelligence needs.
EclecticIQ Fusion Center enables the acquisition of thematic bundles of cyber threat intelligence from leading suppliers with a single contract.
The company won Deloitte's Technology FAST50 Rising Star Award for "Most Disruptive Innovator."
EclecticIQ is headquartered in Amsterdam, The Netherlands. Read more at: www.eclecticiq.com