EclecticIQ Fusion Center Intelligence Essentials places threat intelligence within reach of organizations that cannot afford or recruit dedicated threat analysts.
New feed offers single stream of analyst-qualified daily reports, structured intelligence and IOC feed ready for human and automated consumption.
AMSTERDAM, the Netherlands – November 1, 2017 - Today, EclecticIQ launches EclecticIQ Fusion Center Intelligence Essentials, a first-in-the-industry service that merges and normalizes 50+ intelligence sources into a single feed, providing contextual qualification for human analysts.
EclecticIQ Fusion Center Intelligence Essentials allows organizations of any size to jumpstart their Cyber Threat Intelligence (CTI) practices without compromising on quality.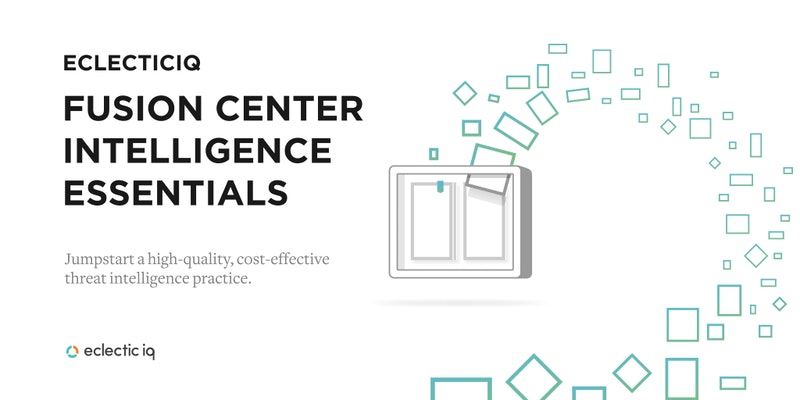 Against the raids of talented hackers, an effective security response typically involves human-qualified threat intelligence. These dedicated human analysts allow a CTI practice to make sense of information in ways that automated solutions cannot match. Experienced threat analysts have traditionally been responsible for the critical and complex tasks of acquisition, collection, tagging and qualification of intelligence sources.
However, finding seasoned talent has been the biggest barrier to building a CTI practice. Even large enterprises have encountered significant difficulty in developing an in-house team of intelligence analysts. Given the time and investment required for analyst recruiting and training, only large and well-financed organizations have been able to operate a fully staffed CTI practice. Other organizations have delayed the expansion of their CTI practices, to the detriment of their cyber security posture.
The veteran analysts working at EclecticIQ's Fusion Center offer human-qualified intelligence based on 50+ open-sources and a selection of commercial sources (incl. Redsocks, SenseCy and Verint) in a single feed, focusing on generic threats to any enterprise.
The feed consists of reports for human consumption by any stakeholder in an organization. It includes Structured Intelligence (based on – amongst others – the STIX industry standard), and a feed of Malicious IOCs and IOAs for further analysis (not only by Security Operation Centers and Incident Response teams) allowing for automated feeding into downstream Security Controls such as a SIEM.
With this launch, organizations can focus entirely on responding to threats without having to manage multiple intelligence feeds, thereby saving time and money.
"When our customers are trying to lay the foundation of their threat intelligence practice, they need access to the essentials: human qualified IOCs and tactics, techniques and procedures (TTPs) they can trust, complemented by situational awareness and out-of-the-box integration," said Joep Gommers, Founder & CEO at EclecticIQ. "Fusion Center Intelligence Essentials allows our customers to bootstrap their practice and puts capabilities in place to free up their time and resources to focus on the things that matter to them."
EclecticIQ Fusion Center Intelligence Essentials is offered as an online subscription, that comes with support and various configuration options.
Sign up for a fully functional 5-day trial online at the EclecticIQ Fusion Center Intelligence Essentials page from today.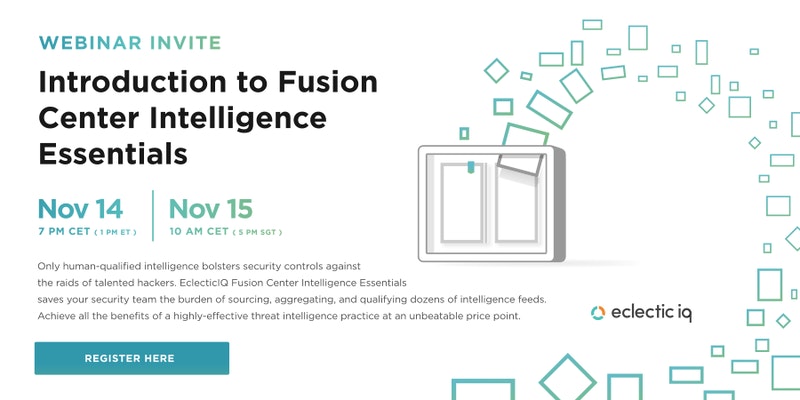 An introductory webinar and demo is scheduled for November 14 and 15, given by Chris O'Brien, Director of Intelligence Operations at EclecticIQ. A seat can be reserved here.
About EclecticIQ
EclecticIQ helps organizations to turn cyber threat intelligence into business value with a suite of products built for cyber security professionals in threat intelligence, threat hunting, SOC, and Incident Response roles.
EclecticIQ Platform is the analyst-centric threat intelligence platform based on STIX/TAXII that meet the full spectrum of intelligence needs.
EclecticIQ Fusion Center enables the acquisition of thematic bundles of cyber threat intelligence from leading suppliers with a single contract.
In 2016, the company won Deloitte's Technology FAST50 Rising Star Award for "Most Disruptive Innovator".
EclecticIQ is headquartered in Amsterdam, The Netherlands. More information at www.EclecticIQ.com