For Situational Awareness
Improve your situational awareness and mitigate risk with our collection of analyst-centric threat intelligence products and services.
Challenge
As organizations' attack exposure expands exponentially, government agencies like the European Union Agency for Cybersecurity (ENISA) and the United States Computer Emergency Readiness Team (US-CERT) are recommending implementation of cyber situational awareness to strengthen cyber resilience and better manage risk.
Cyber situational awareness provides an objective picture of your organization's cyberdefense posture. It can help leaders and managers understand the current and projected impact of threats to the organization.
Assessing the implications of potential threats to increase situational awareness requires Cyber Threat Intelligence (CTI) teams to evaluate an adversary's capabilities, methods, and intent. But most CTI teams are so overwhelmed by tracking Indicators of Compromise (IOCs) that they can barely track threats, let alone focus on their impact. Without cyber situational awareness organizations are forced to be reactive instead of proactive.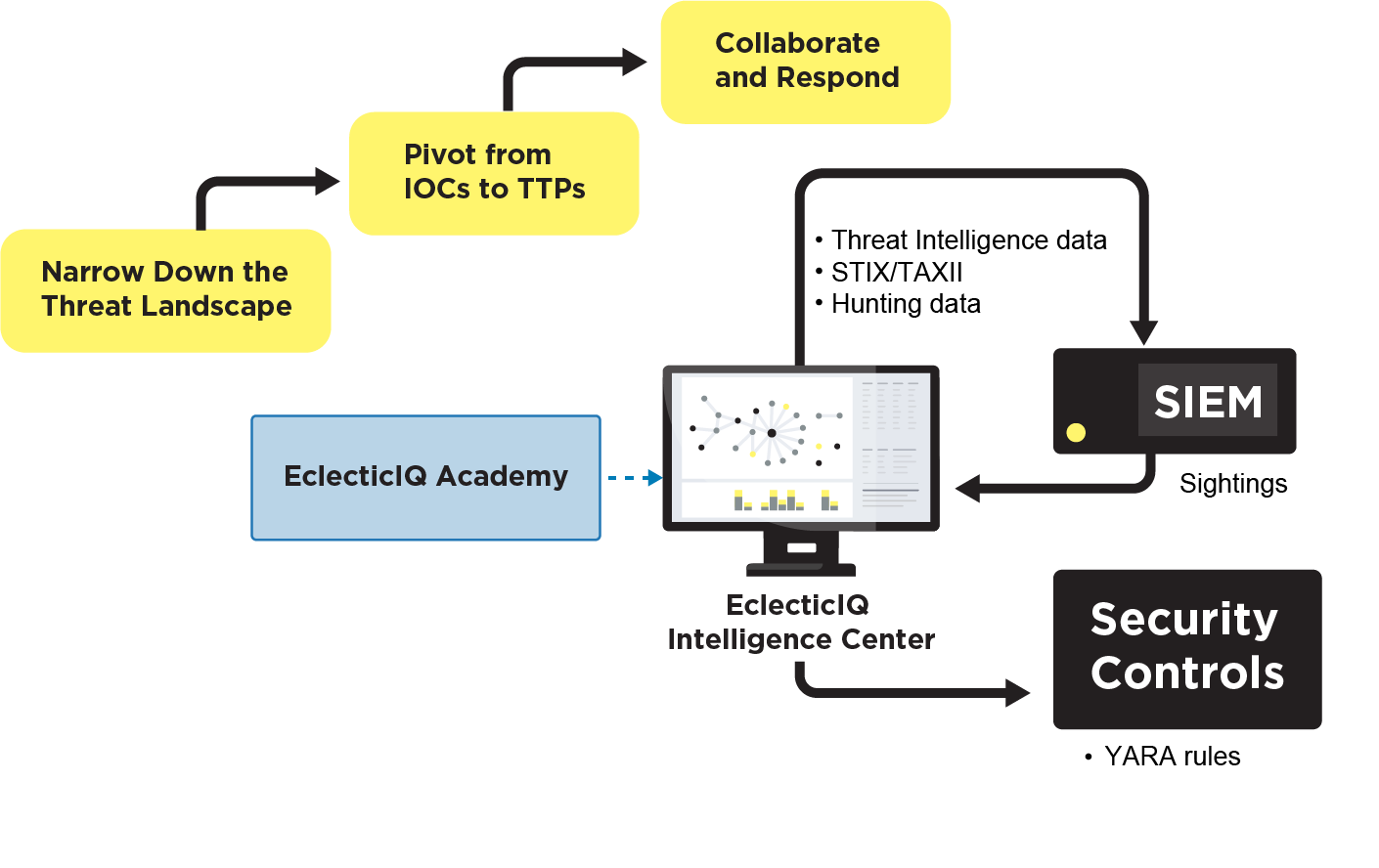 Solution
Establishing cyber situational awareness requires three actions:
Supplying your CTI operation with tools that allow analysts to pivot from tracking IOCs to tracking adversary Tactics, Techniques, and Procedures (TTPs).
Leveraging threat intelligence to narrow the threat landscape down to only the most relevant risks to your organization.
Implementing robust threat hunting to detect malicious actors well before your Security Information and Event Management (SIEM) solution issues an alert.
Taking these three steps will enable your organization to detect threats and determine adversary capabilities and intent. For example, identifying suspicious lateral movement as a targeted external attack can quickly rule out a malicious insider to better focus Incident Response (IR). Similarly, observing community chatter on the dark web about targeting organizations in your industry can help you become proactive about cyberdefense.
Approach
EclecticIQ helps you establish cyber situational awareness and mitigate risk with a range of analyst-centric threat intelligence management products and services that:
Benefits
With EclecticIQ, you achieve cyber situational awareness. Key benefits of this approach include:
Comprehensive understanding of the threat landscape in relation to your organization's unique requirements
Better intelligence collection, analysis, and dissemination to focus SOC and CTI operations on fighting the most pressing threats
Improved identification, tracking, isolation, and countering of active threats via tight integration with your SOC's SIEM, security controls, and other systems
Faster response with less effort through internal collaborative workspaces to help CTI and SOC analysts track threat actors and align the response to TTPs
Increased proactivity with advanced threat hunting that helps your SOC get ahead of threats
EclecticIQ is trusted by the best in cybersecurity